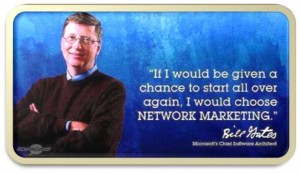 The 40/40 Plan is DEAD!
Our economy has changed. We've gone from the industrial age to the information age. Large American Corporations have farmed their jobs out to foreign countries so they don't have to pay for insurance and retirement.
The 40/40 plan is a thing of the past. Fortunately, there is a better way and it's created more millionaires than any other industry…
When Bill Gates, founder of microsoft and Donald Trump, two of the wealthiest men in the world, were asked what they would do to rebuild their wealth if they had to start over from scratch, they both answered "Network Marketing" also known as Multi-Level-Marketing or MLM. Do you think these men know something about wealth building?
So what are the actual "Facts" about Network Marketing? (MLM) and is it really a better way for the average person to achieve financial independence and time freedom than working a traditional job? Many people have misconceptions regarding Network Marketing, calling it a "pyramid scheme" however there is a significant difference between a legitimate Network Marketing Business and an illegal Pyramid scheme.
Hopefully the verified factual information on this page will set the record straight.
The Facts About Network Marketing
1.
How Profitable Is The Network Marketing Industry?
FACT #1:

Network Marketing has created more "self made millionaires" from average people than ANY other Industry!
FACT #2:

82%+ of American Females who earn more than $100,000 per year have done it with Network Marketing!
FACT #3:

Network Marketing is one of the most profitable industries in the world!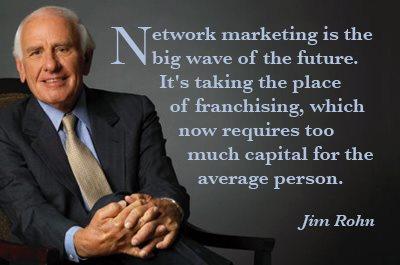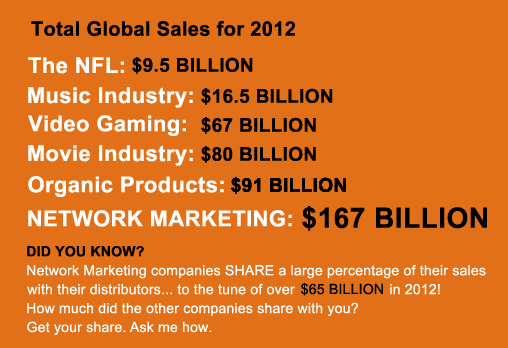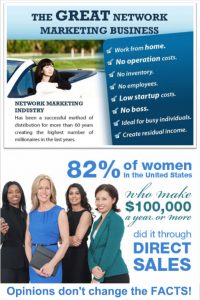 FACT #4:

Network Marketing provides less risk, FAR less cost and much more profit potential to individuals than Franchising!
FACT #5:

Unlike traditional corporate entities, Network Marketing returns the majority of it's net profits to independent representatives as opposed to advertisers, wholesalers and retailers.

Network Marketing Myth buster Video
Where else can you start your own business for under 500 (or for as little at $25), work in your spare time, help others build their health and their wealth, multiply your efforts through others, and build a lifetime residual income that pays you month after month regardless of whether you work that day or not?
Is Network Marketing a Pyramid Scheme?
MLM Who's Lying? by Tim Sales
MLM Who's Getting Rich and Who's Not by Tim Sales
MLM Do Most People Fail? by Tim Sales
---
Brilliant Compensation Video
---
Robert T. Kiyosaki (the millionaire maker) calls Network Marketing… The Business of the 21st Century!
One of the most recognized and best qualified individuals on the topic of wealth building is Robert T. Kiyosaki. He is a self made multimillionaire and the author of the famous book "Rich Dad, Poor Dad". He is called the millionaire maker because he dedicates part of his time to teaching others how to create wealth. Thousands of people have transformed their financial lives for the better by listening to and applying his advice and insight. Check out what he says about Network Marketing in this wealth building educational video..

FACT #6:

YOUR best chance for achieving financial and lifestyle FREEDOM in the new 21st century economy is Network Marketing!
Some people argue that the majority of people who get into network marketing never succeed at it.  That's true! However it's not because they can't, it's because they don't. They don't educate themselves. They do it wrong, get frustrated and let their own negativity stop them. Rather than learning to do it right (duplicating success) and following through consistently until they succeed, they do what doesn't work, get frustrated, make excuses and quit. Those who do the right things consistently and persist.. succeed! It's not easy but it really is that simple!
The real question is which type of person are you? Because in Network Marketing, it really is completely up to you to decide how far and how fast you will go and grow!

Why Network Marketing is a Better Way
THE CONCEPTS OF NETWORK MARKETING AND CASHFLOW QUADRANT VIDEO
---
Network marketing can provide you with financial, time and lifestyle freedom most people only dream about..
The real question is do YOU have the DESIRE – FOCUS – COMMITMENT & DISCIPLINE to learn and do what it takes to succeed, and then DO IT?
If so, it doesn't get any easier or better than YOUNGEVITY!
For more information on Building a Youngevity Business and what makes Youngevity Unique contact:
Mark Hamilton – (602) 752-0274
or visit: http://mwh.my90forlife.com or http://mwh.youngevity.com