Having the right business tools can make the difference between success and failure in Network Marketing. A well planned "virtual office" can make prospecting, following up, tracking, planning and sponsoring faster, easier and much more effective. Here are my three favorite tools I use and have found to be a valuable contribution to my ongoing success.
Prospecting, Promoting, Following Up, Tracking, Communicating with your team etc. are critical activities in the initial stages of your Network Marketing Career. But thanks to the Internet and cell phones, today we can literally build and run an international business with a laptop and cell phone, from just about anywhere in the world if we have the right tools to help us.
I use the following two powerful (and very economical) business tools because they provide me with virtually everything I need to simplify, organize and semi-automate the building of my business so I can focus my time, effort and attention on what's most important… HELPING AND SERVING PEOPLE.
1. The Youngevity Engagement System (YES)

Review Full Details & Feature List Here: http://www.ygysystem.com/

This is an all in one business management tool. Prospecting, Lead generation, contact management, automated followup emails, text appointment notifications, free youngevity product drawings and much much more. Has almost everything a professional network marketer needs to organize, build, track and manage an International Youngevity Network Marketing business.
CLICK HERE TO CHECKOUT ONE OF MY LEAD CAPTURE PAGES
Note: Below is an example of how I might promote this page…
"Enter to Win a FREE Healthy Start Nutrition Pack (a $125.00 Value) and take FREE self health analysis to discover the specific nutrient program that is right for your specific needs! No obligation to buy"
This invaluable tool simplifies your prospecting, recruiting and followup using lead Capture Pages targeted to EVERY aspect of my Youngevity business (nutrition, business, essential oils, jewelry etc), Contact/Appointment Management, Followup Reminders, Lead Progress Tracking, Keeps everything organized, simple and running smoothly so I don't have to THINK.Among other things it's like having a virtual assistant (secretary) who carries much of the weight for you, reminds you of appointments, sends personalized followup emails, keeps you aware of exactaly what each prospect had done, watched, said etc etc…
AN INVALUABLE TOOL: I wouldn't be without it. It's one of my most valuable business tools. Rich and I have been using and testing various types of this tool since the end of last year. We ultimately decided on this one. Check it out and review it for FREE.
If you decide to try it, register with the following Facebook page for training, updates, webinars on use:
https://www.facebook.com/groups/YoungevitySuccessTools/
Below is a screen shot and a short video revealing some of the features… just the TIP of the iceberg. There are also videos and webinars on how to use it in the admin and through the facebook group shown above so I recommend you get a Facebook account and request to be a part of the group above… also…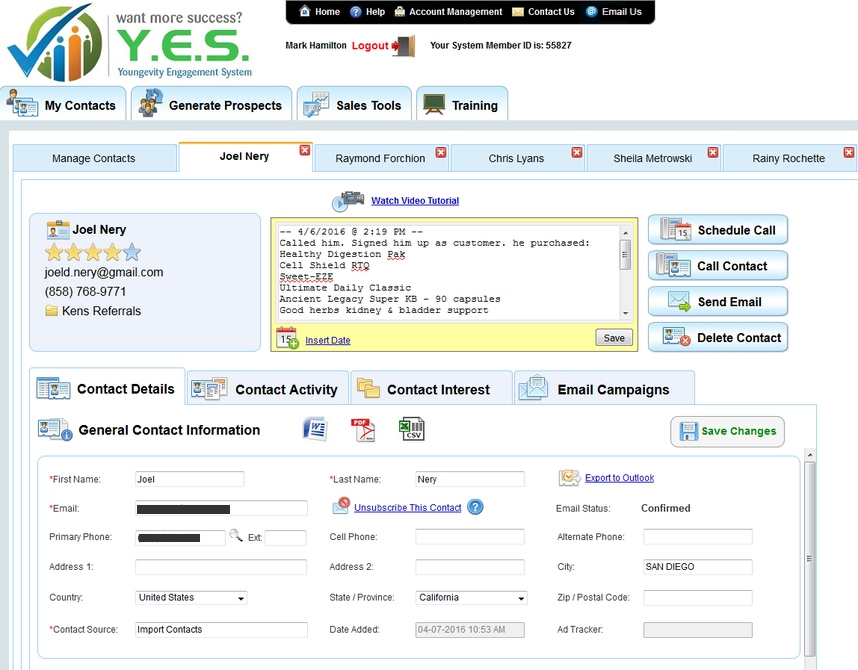 ---
If you connect your YES account to me as your upline leader, I can share additional tools and training that is working for me with you! My Leader ID is YGY Freedom
YES Video Demonstration
NOTE: If you sign up to use this, in your admin join team: YGY Freedom
This will connect you with me and give you access to MY OWN CUSTOM Youngevity training, education, sales and marketing tools!
---
2. A Quality Web Based Email Service Dedicated to Youngevity
Reason 1: Web Based because then you can access it anytime, from anywhere in the world on any computer. You are not restricted to your home office. Faster, more efficient.
Reason 2: Dedicated to only Youngevity to keep things simple and organized. Having to sort though your personal emails, spam etc to find, organize and track business related contacts and correspondence can be cumbersome and confusing.
I use Mail.com because it has many useful features for Network Marketers. You can get a free account or upgrade to a paid one for under $20 per year with more features. I've tried alot of online mail services (gmail, hotmail etc) and this is my favorite. Very well organized and loaded with options and useful features. I upgraded to the paid service. It's very economical and among other things, it will even notify you via text message whenever you get specific types of email. Again too many features and benefits to list, you can discover these for yourself if you decide to try it.
---
Here is a screen shot of the main page…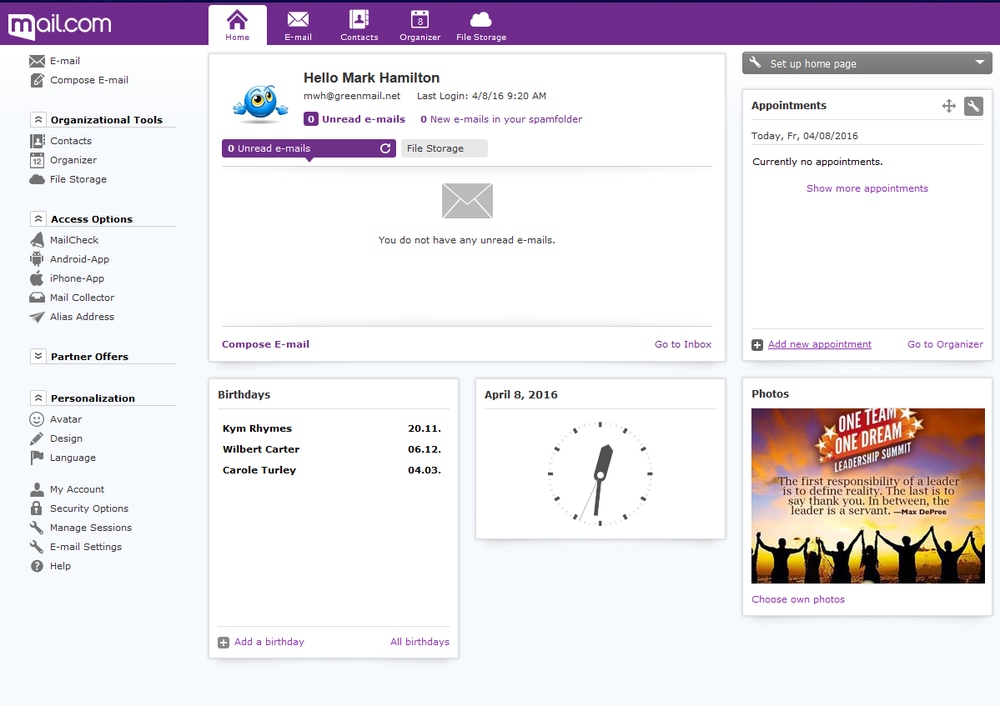 ---
3. KeePass (FREE Software) and Keefox (FREE Firefox add on).
I was a professional web developer for over 20 years. Mozilla Firefox is and always has been my web browser of choice for numerous reasons. Keypass and the KeeFox addon (that integrates the software into the firefox browser) is among these many reasons.
Keepass is a Freeware program that installs on your computer and keeps ALL of your web site logins, passwords and locations encrypted, safe, secure and backed up. Add the Keefox addon to Firefox and you can single click to visit and login to ANY web site, online account or membership area with the click of a button and it's VERY SECURE!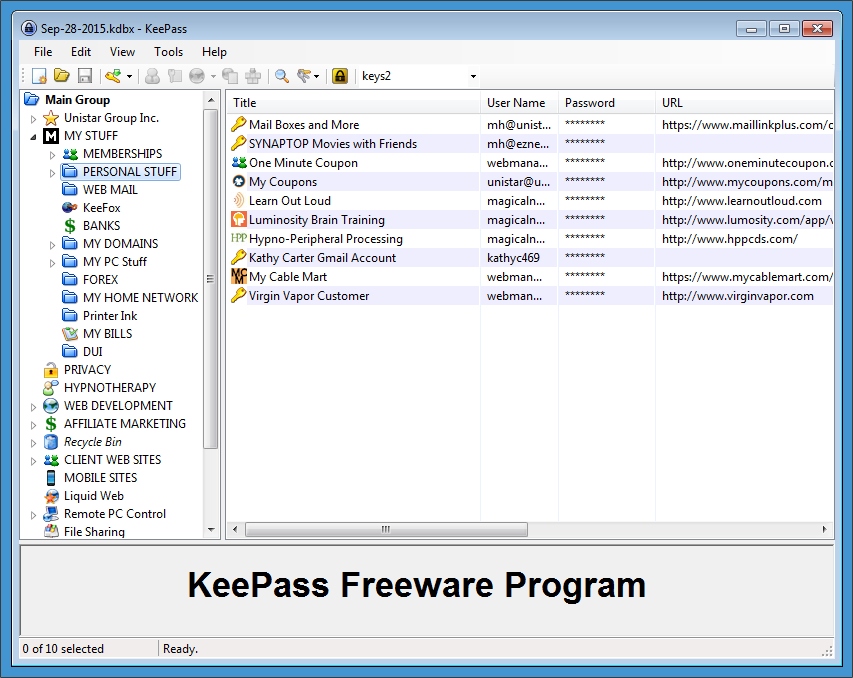 ---
With KeePass/KeeFox you NEVER have to remember another username, password or web site. It's all done for you and backed up securely to multiple drives on a regular basis! And They are 100% FREE
---
Video Demonstration of Mail.com and KeePass/KeeFox
This is hands down FAVORITE Firefox addon and I used it extensively as a webmaster. Clients would forget their logins and I could instantly bring them up for them YEARS later. It's MUCH easier to learn to use this one software program than it is to remember all your passwords, web site accounts etc over and over again.
If you aren't using this, you are missing out on a valuable tool that will simplify your online life SIGNIFICANTLY… But hey, it's your time and effort. Use it as you will.
The bottom line is many of us get so overwhelmed with the details of business organization and simplification that it stops us dead in our tracks or at the very least inhibits our progress and makes things more confusing and cumbersome. These tools ease that burden SIGNIFICANLY.
Yes there is a learning curve but if you can read, watch videos and focus your attention long enough to spend a little time practicing with them. You will soon have them down to a science and I GUARANTEE once you do, you will wonder how you ever managed without them.
Following up with prospective customers and reps is much easier, faster and more effective when you have the right organizational tools, resources and tracking system in place to simplify, organize and track your activities, progress and results. These are the three most important tools in my arsenal that simplify my business and free me up to spend my time working with people and not with burdensome technical stuff.
To your success!